While flying FPV it happens once in a while that your camera gets bumped on the floor and stops recording. This results in a corrupt video file. Nothin is more frustrating than finding a ~1GB video file that won't play, you know it's there, but it doesn't work! I found an app that will fix corrupt video files from the Foxeer, Xiaomi and GoPro (maybe runcam too, but i don't have one to test). It's free 🙂
Download the app from Grau GmbH.
You can use for free the DEMO Version that will let you fix 50% of the file. meaning, if the file is 1 hour long, it will only fix the first hour, If it is 2mins long, it'll fix the first minutes only.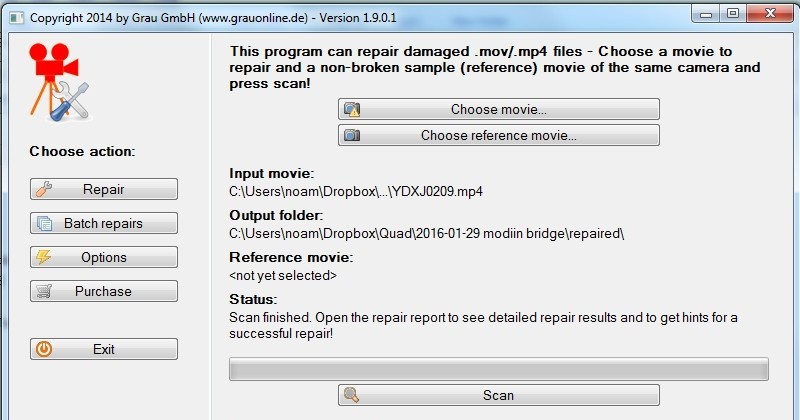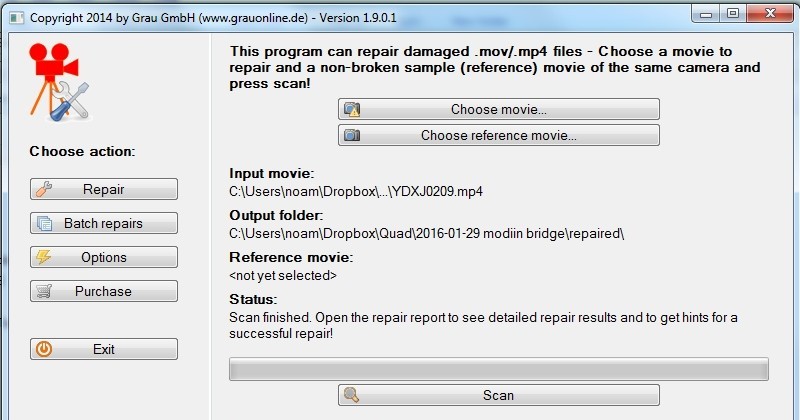 Fix corrupt video
Open the app
Load the corrupt file by clicking Choose Movie…
Load a reference movie by clicking Choose Reference Movie…
The reference movie is a good movie file from the same camera, it can be a small file as well.
Click Scan, and hope for the best 🙂
from Grau website:
What exactly means REPAIR? Repair means that only video and audio portions can be repaired that are not lost: On some of your corrupt files, it MAY NOT repair anything at all, on some files it MAY repair some video portions, and on some other files it MAY repair both video and audio portions (It fully depends on the grade of corruption).
A little trick
Since it will only fix the first half of a file a small trick will be needed to fix the whole file. One way, is:
duplicate the video file by copying it to the same folder and changing it's name.
you should now have 2 video files, that are the same, just the name is different (ex. vid1.mp4, vid2.mp4)
open CMD, and browse to the folder where the files are located.
run:

COPY/B vid1.mp4+vid2.mp4
This will append vid2 into vid1
Now, the first half of vid1.mp4 is actually your whole video 🙂